A one-day trip from Chiayi to Alishan National Forest Recreation Area
Background
I've been to Alishan National Forest Recreation Area ("Alishan") in Taiwan twice! My first time, back in February, was following a day tour group. And I found myself wanting to explore the area again at my own pace, which motivated my second visit this October.
In this article, I would be sharing my experiences from my second trip, and hopefully this will benefit anyone who wishes to explore Alishan independently. For easy future reference, jump straight to my guide summary!
Getting There From Chiayi
I took the Alishan shuttle bus #7322 🚍 right from Chiayi Train Station (TRA), all the way up to Alishan! The bus ride was approximately 2.5 hours long.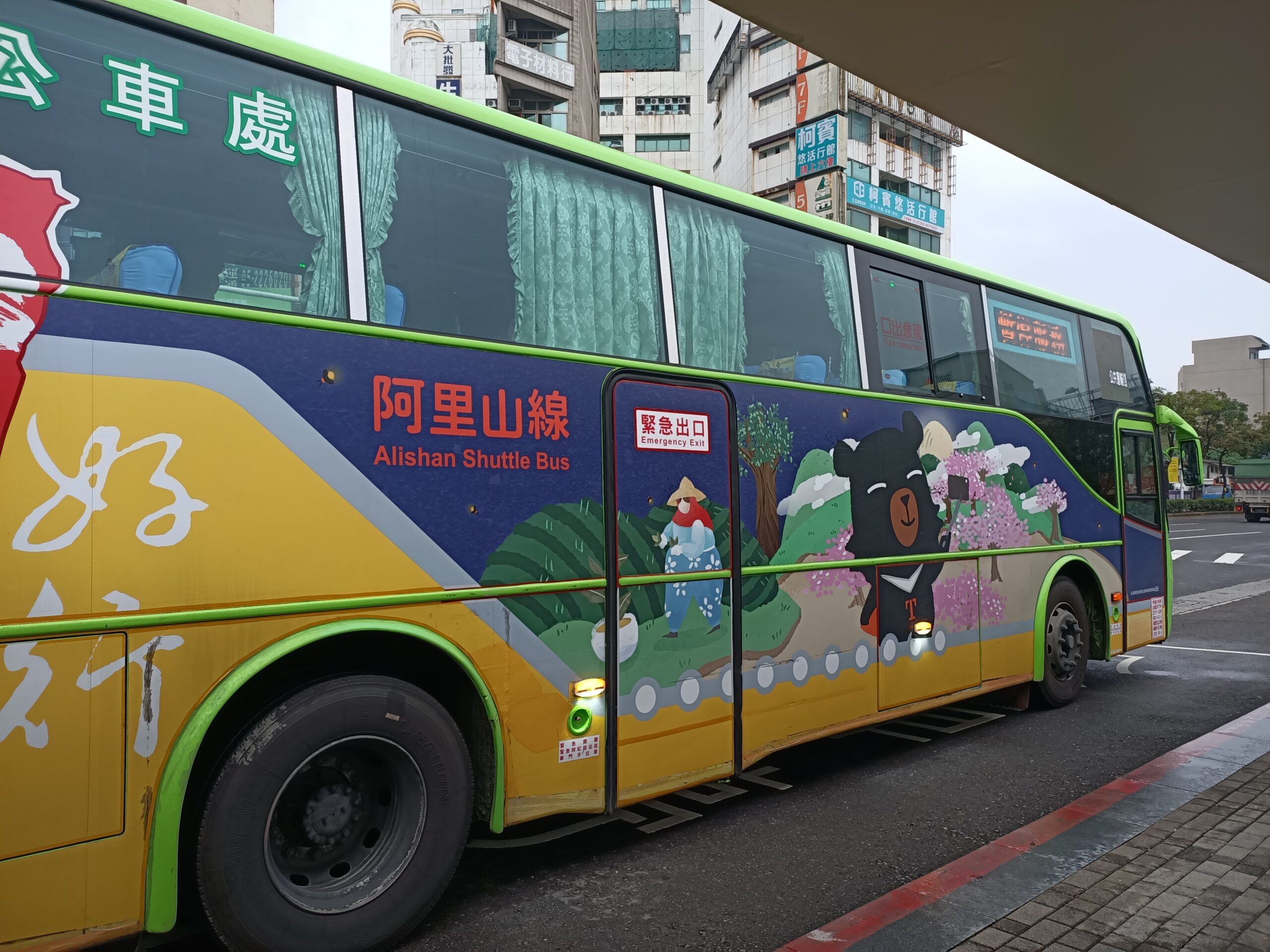 As someone who is quite worried about getting motion sickness, I had prepared some pills with me in my daypack. But, I'm relieved to share that the ride was quite enjoyable and not "giddy-inducing" despite the roads winding around the mountains. (I did make it a point to look at my surroundings instead of staring at my phone.)
While there were websites publishing the bus schedules, I was still quite skeptical of how updated the information was. So, when I arrived at Chiayi train station (the day before), I first approached the staff counter to clarify how to get to Alishan by bus. The lady was very kind and patient in showing me the bus timetable, pointing out the bus station to board and even reminding me of the cool temperatures up in the mountains (which is usually 10 to 13 degree celsius cooler than Chiayi city). Thank you very much! 🙏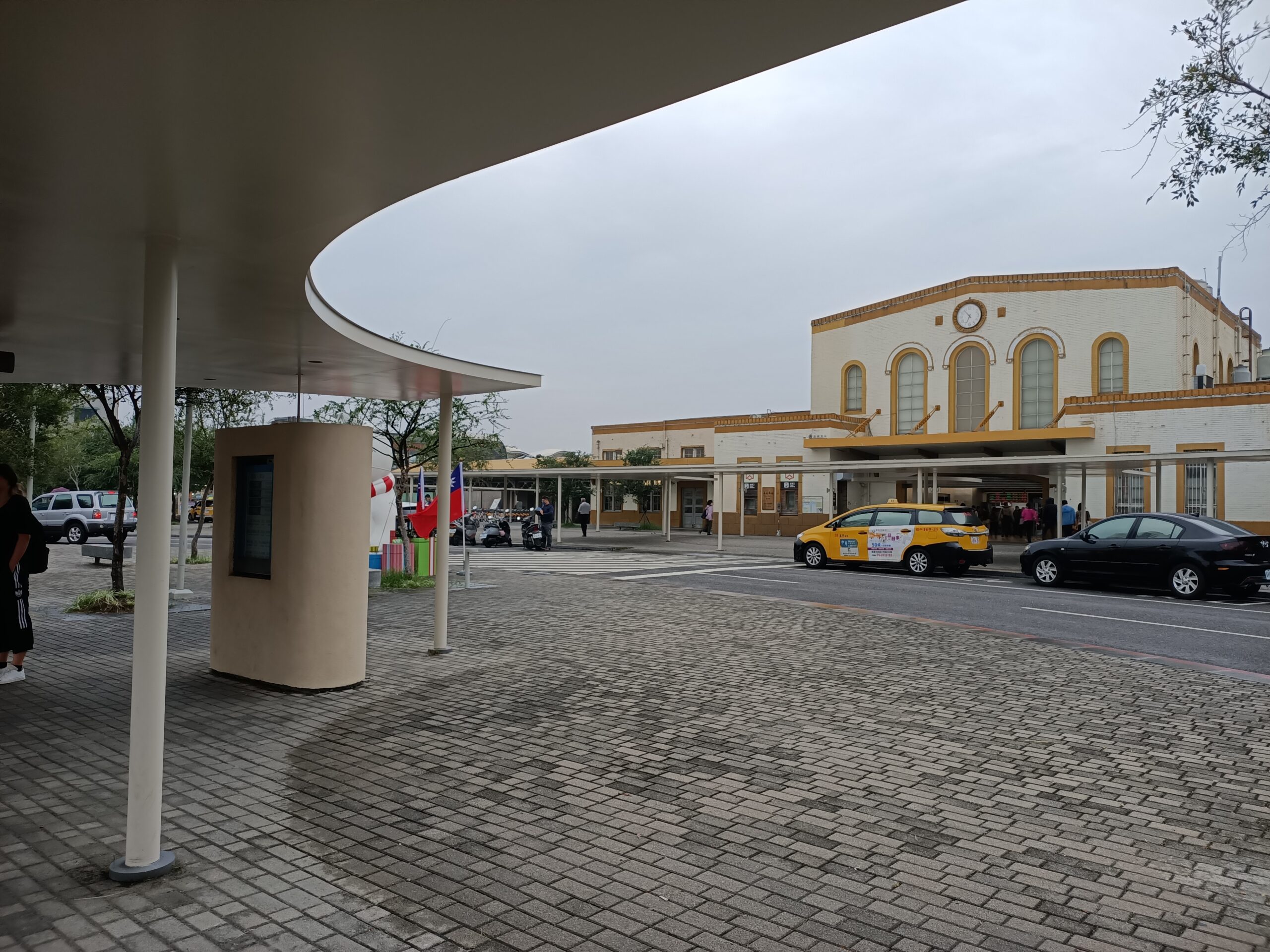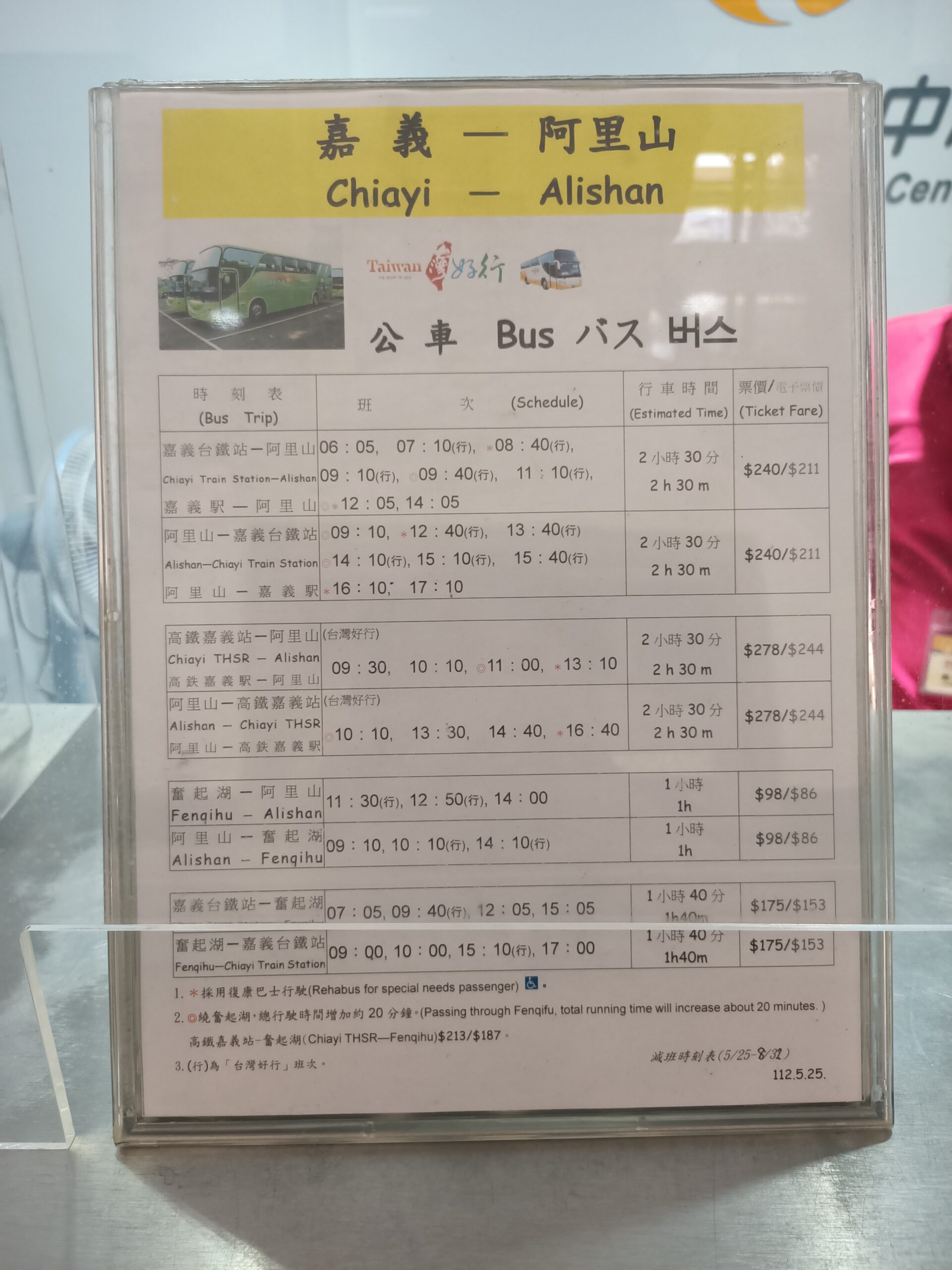 💡 Some bus routes will pass by Fengihu and hence take another 30mins before reaching Alishan. If you use EasyCard, there would be a discount on your bus journey fare! Also, there are seatbelts on the buses and you're strongly encouraged to fasten them while seated for your safety. Oh and not forgetting, take note of the returning bus timings.
From Alishan Bus Station To Alishan Ticket Counter
If you choose to take bus #7322 up to Alishan, this section would be helpful to you. (In all honesty, I feel that most travel guides are missing this portion as they jump straight to the attractions within the national forest recreation area.)
The bus #7322 ended its route at the Alishan Transport Station and upon alighting, I was greeted by the cool air (yay!), and a 7-Eleven shop. I started to wear my layers, as I listened to the shop's repeated announcement of the sale of Fenqihu bentos (which by the way, is worth a try if you haven't made a stop at Fenqihu). In the bus station, there was a large banner displaying all the bus schedules to and fro Alishan.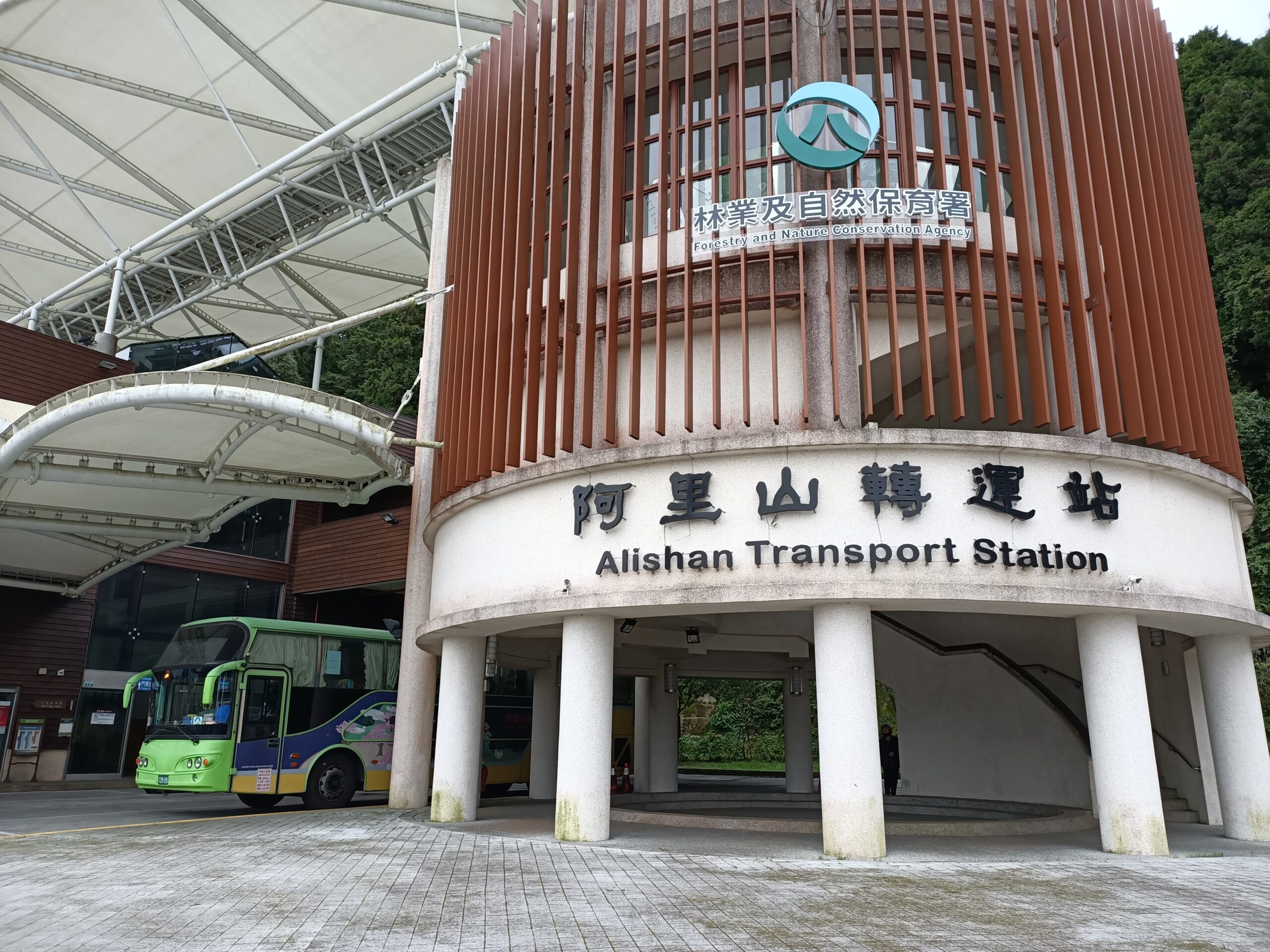 📝 Once again, please take note of the returning bus timings … or you can take a photo to save brain memory space!
At this point, I still haven't purchased my entrance ticket into Alishan and thought I would have to do so within the store or at a counter within a stone's throw away (silly me 😕). Eventually, by trailing behind people, I figured out that one would have to buy tickets at a bridge "behind" the bus station. It was roughly a short 1-2 mins walk.
💡 There were 3 gantries under the bridge: 2 for vehicles and the last one, along the pedestrian path, for those entering via foot. A standard ticket costs NT$300. But good news for us! Those coming by public transportation only need to pay NT$150, a sweet 50% discount!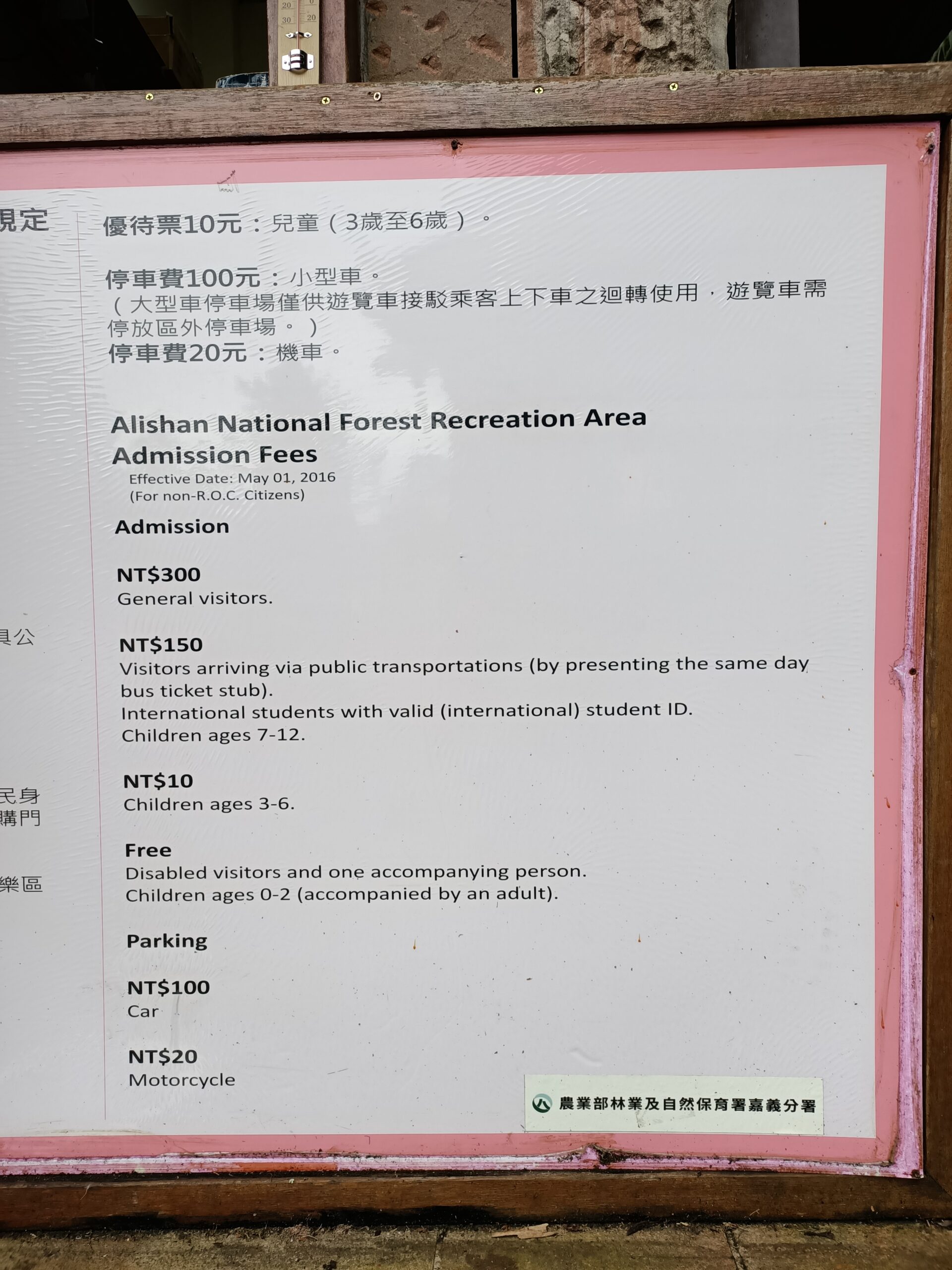 After crossing the bridge, congrats, I'd say you've stepped foot into Alishan National Forest Recreation Area!
From Alishan Ticket Counter To Forest Trail
But, the forest trek hasn't begun!
As I continued my way along the pavement, I passed by the Alishan train station. Usually, most people will head to the visitor centre first, to get the physical map & guide of the area and also ask for any information desired, which was what I did. Except I already had a map at hand from my first visit, though under-utilised.
I asked the staff how to get to the forest trail and the approximate duration between landmarks. Which led me to discover a fun fact: the map wasn't drawn according to scale for distance 😂
📍 From the 1st traffic control to the Younger Sister Pond, it's a 40 minute walk. And then from the Elder Sister Pond to Tashan viewing lot, it's a 2hr trek one way. I had planned to trek all the way to Tashan viewing lot to enjoy panoramic views from the summit, but after knowing it would take 4hrs back and forth, I did reconsider my plans …
A little story time …
Anyways, I asked the lady how to get to the start of the forest trail. Her instructions, as I recalled, were: "你走出去后左转,然后你会看到斜坡。走斜坡后你就会看到邮局,接着就会看到 '阿里山' 这三个大字。沿着那个标走进去就是了。" Translated to English, she meant that after I exited the visitor centre, turn left and walk till I see a slope; then walk up the slope, past the post office, till I see the 3 characters '阿里山' (Alishan) on a physical display; and that would be the entrance to the forest trail.
Sounds clear enough right? …
Except I saw 2 slopes after turning left and walking from the visitor centre!! Then I realised the lady didn't specify whether to walk a down or upslope. Me trying to be adventurous and yolo … I just chose the former as I saw a couple of people taking that route a while ago. And it turned out that I entered the hotel district area and made one whole big round back to the visitor centre area, what a joke 🤣
After asking for further directions from a few strangers, I then found out which building was the post office and what the '阿里山' really looked like. Here's some photos!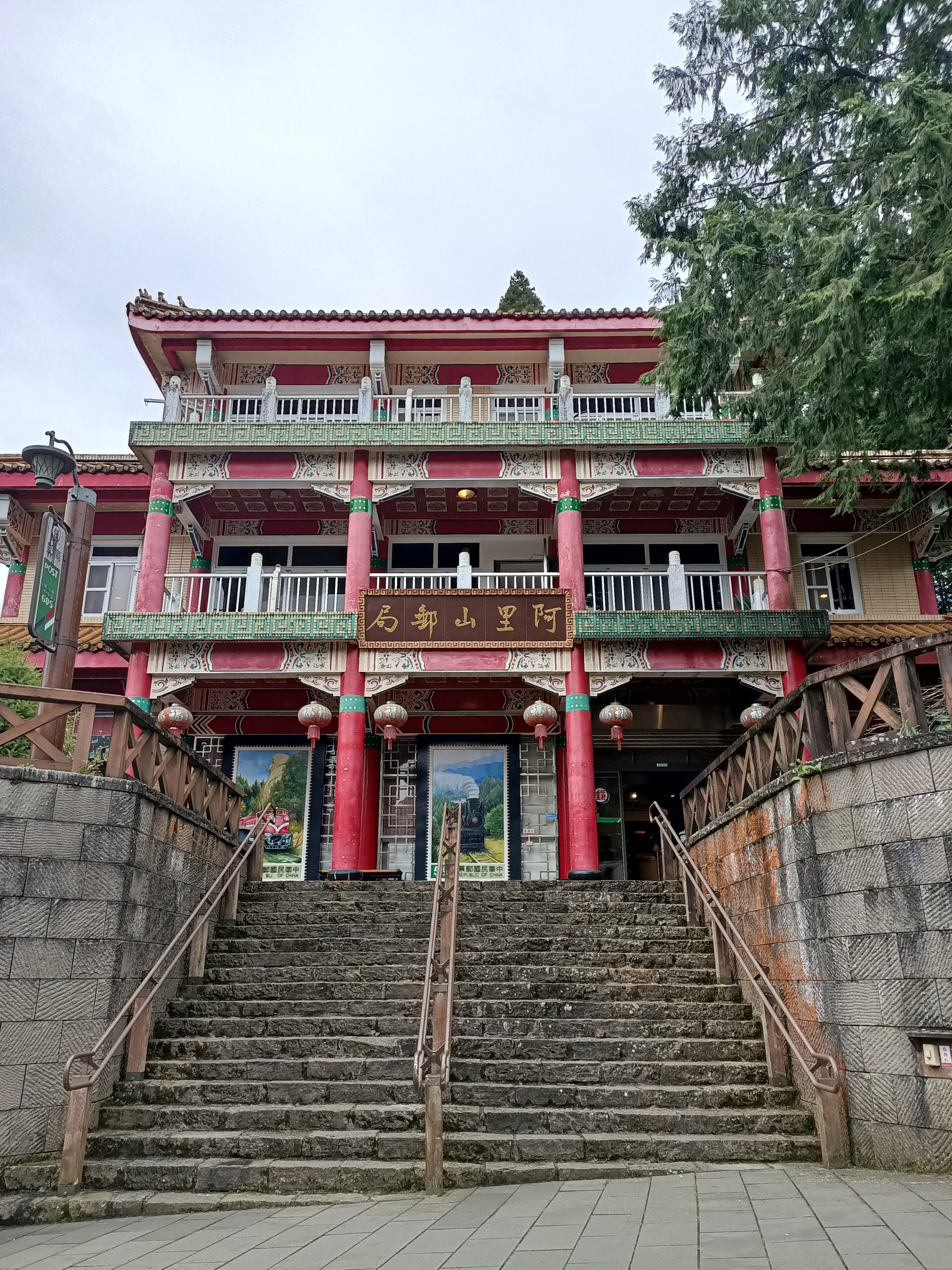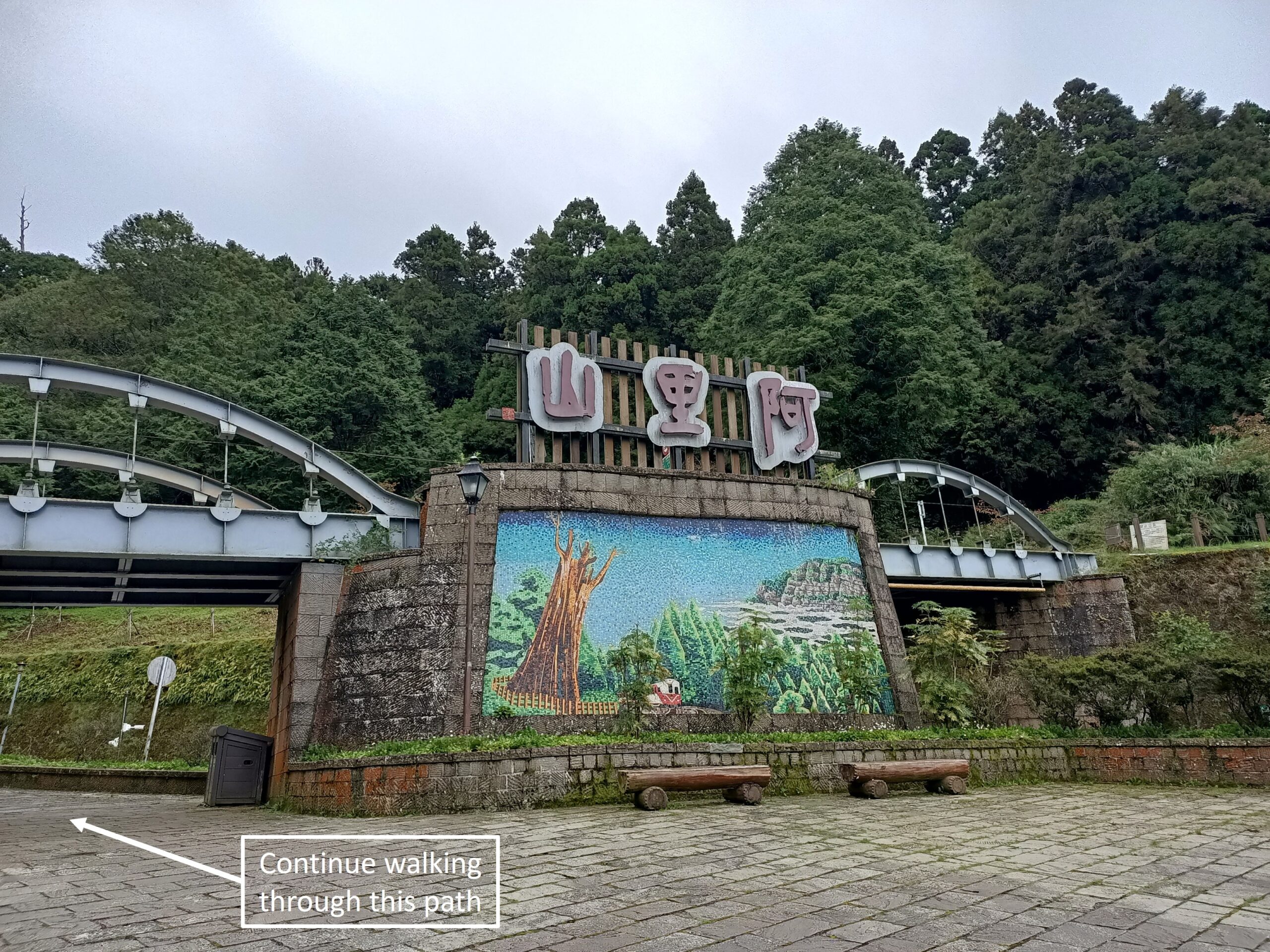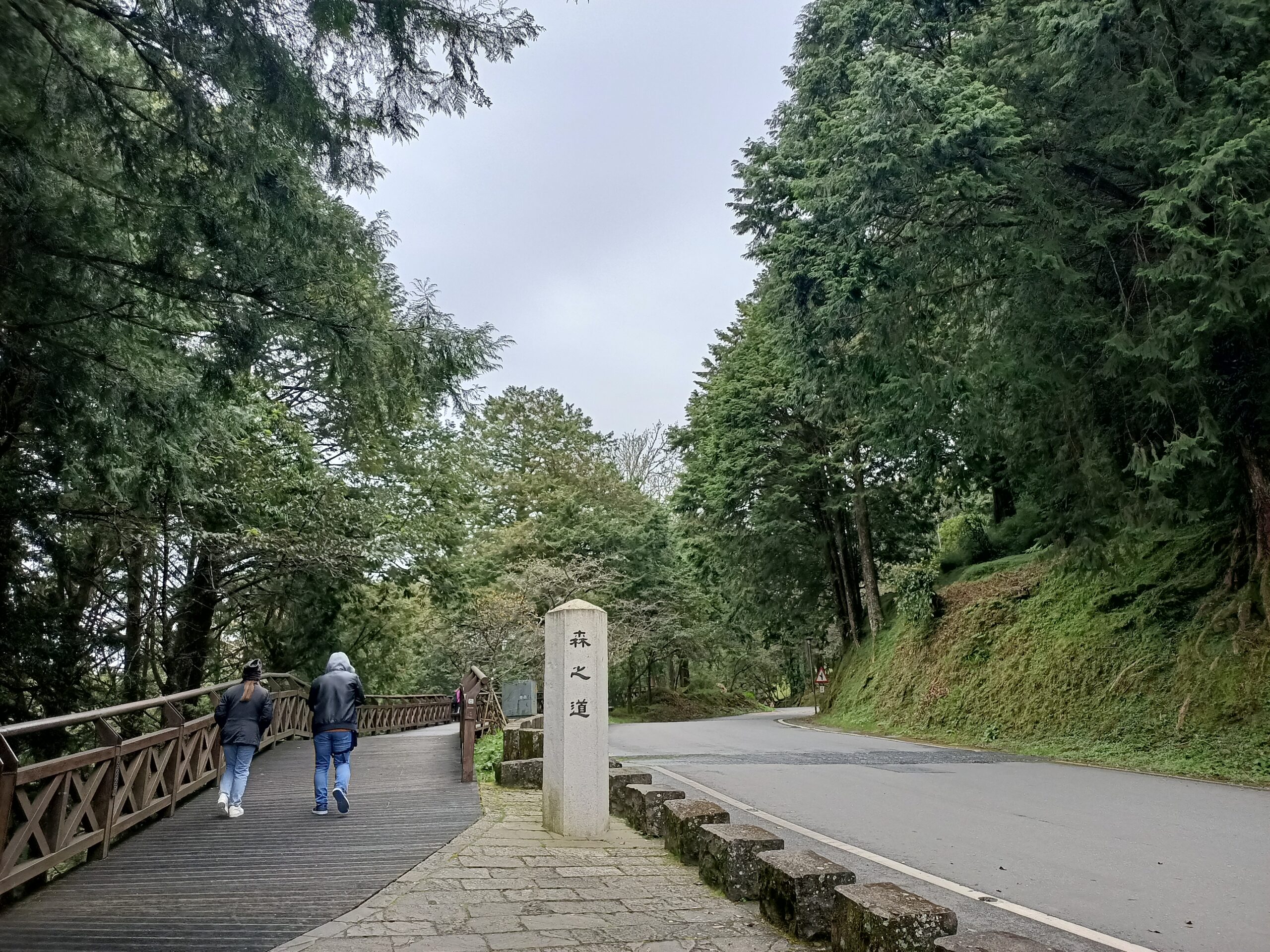 Because I had faced problems navigating on my own and got lost at the start, I only managed to reach the start of the forest trail 1.5 hours after I alighted from bus #7322 😩. Frankly speaking, I felt quite frustrated with myself for all the time wasted. Some would think that getting lost is part and parcel of exploring on our own, but back in that moment I just genuinely felt like I could do better. That frustration was also the main driving force behind why I wanted to write this article guide.
Exploring Alishan
Once I passed the 1st traffic control and started embarking on the forest trail, it was really easy to navigate myself! There were clear signs at every junction and near every landmark, which greatly decreased the need to refer to my physical map on hand.
For my day trip, I first headed to the Sisters Ponds, passing by Cherry Blossom Trail, Zhaoping Park and Zhaoping station. I took my time to walk and enjoy the scenery. Haha, by the time I reached the Sisters Ponds, it was already slightly pass 12pm. I then decided not to head up to Tashan viewing lot due to time limit. Maybe next time then!
Instead, I walked along the pond-shore boardwalk down to the magnolia garden, and subsequently (re)visited a few more landmarks. I'll share some photos below!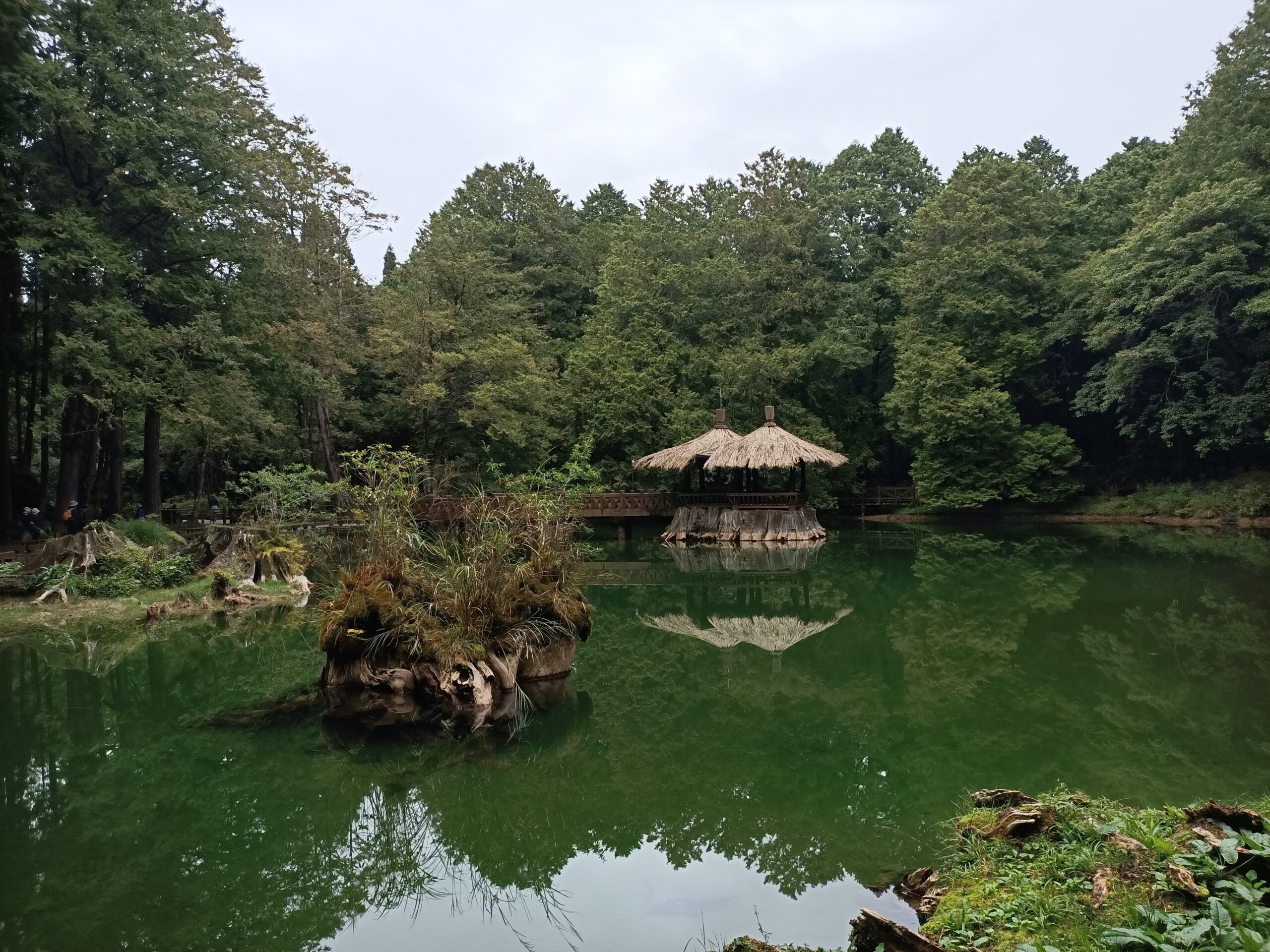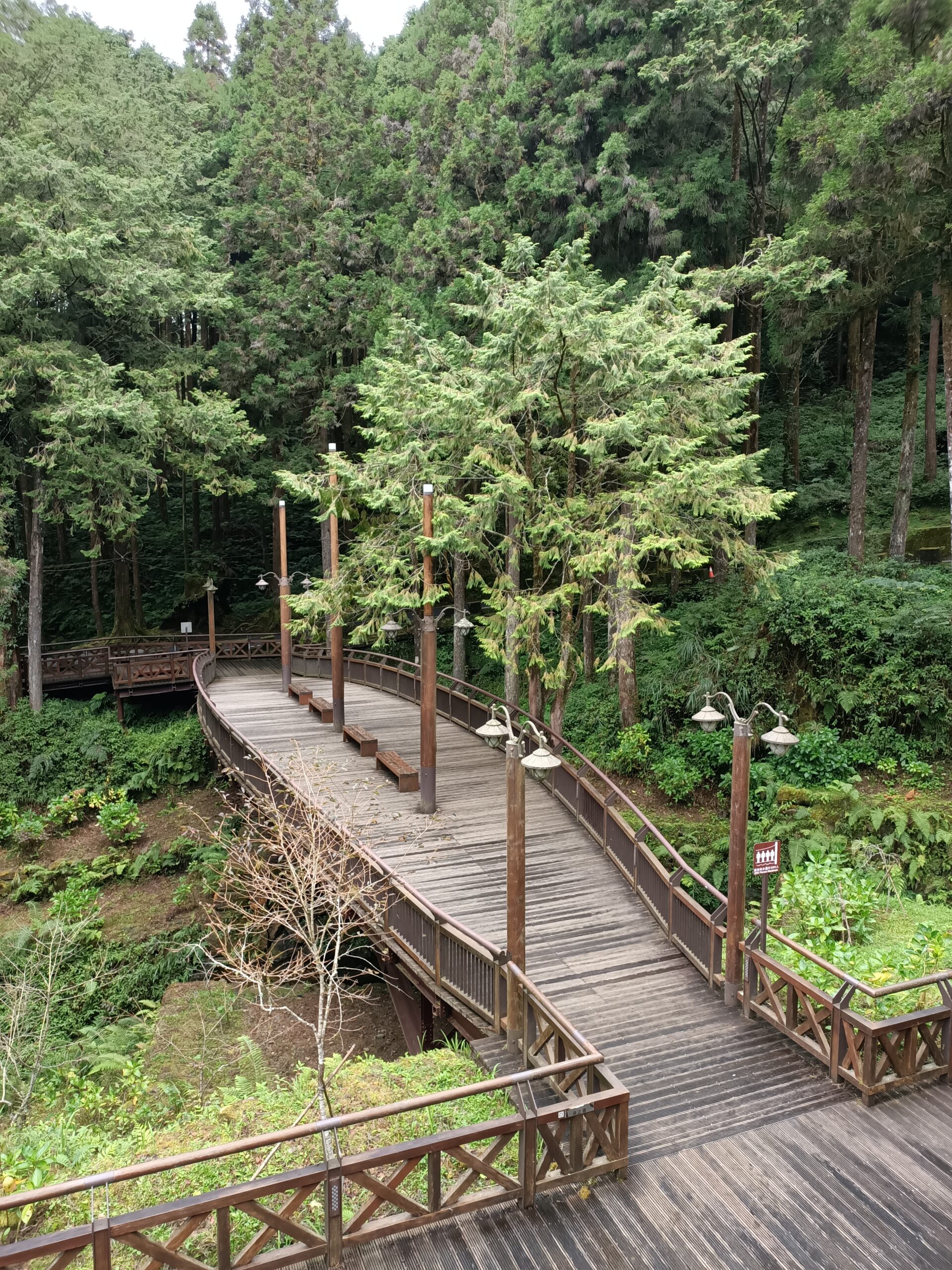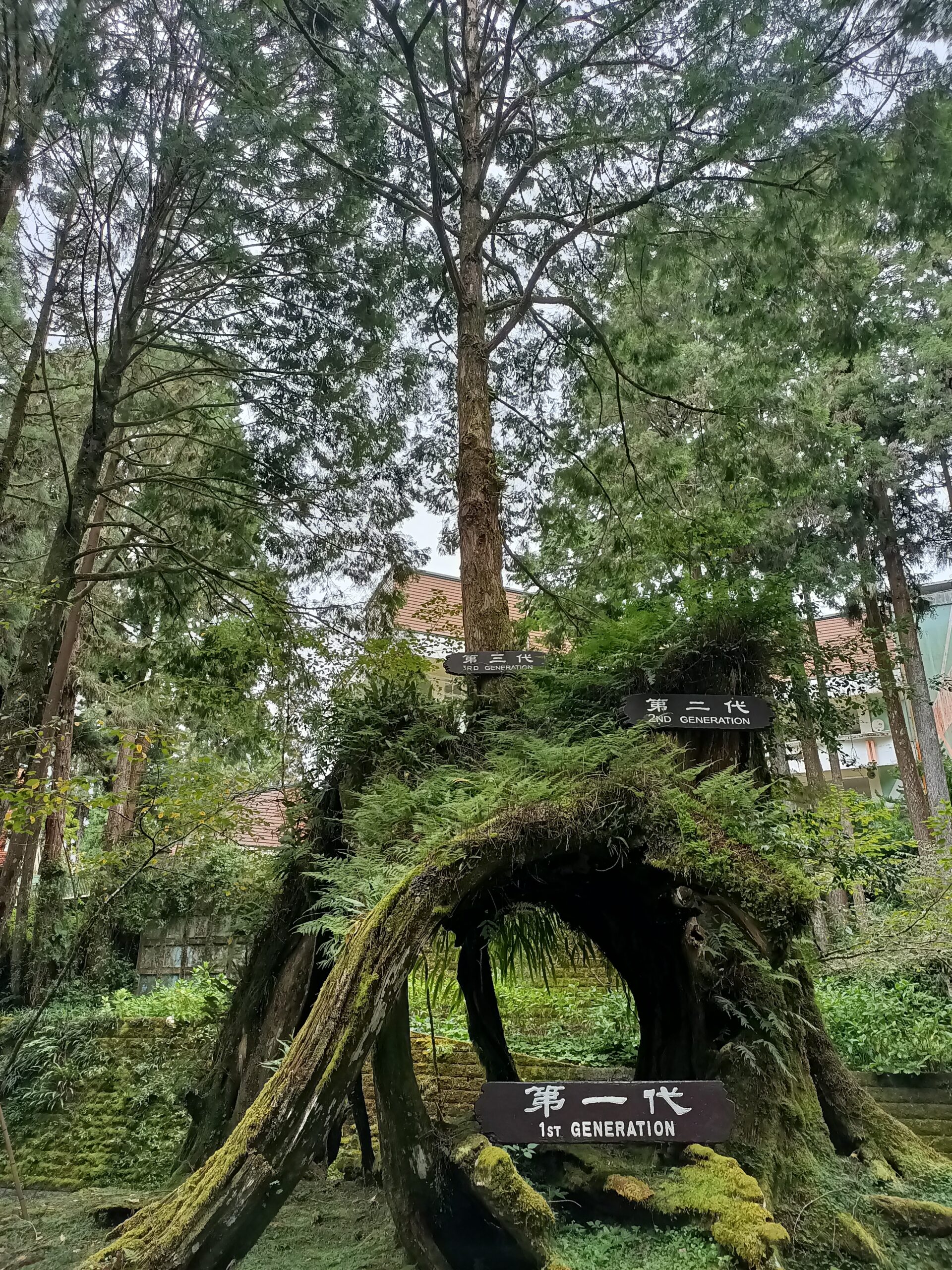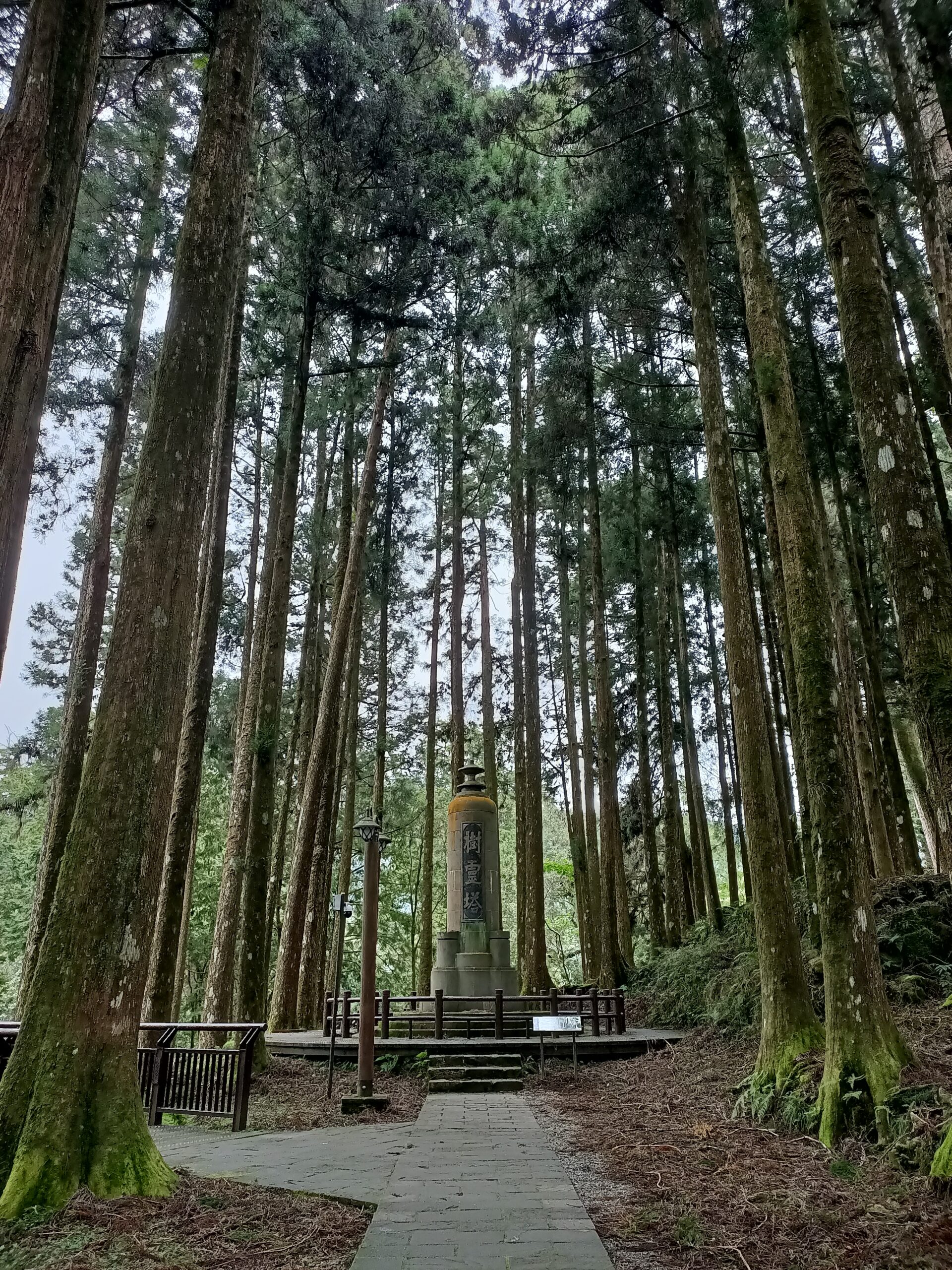 & I'm really glad that I visited those landmarks again as the weather was so much clearer than back in February!
Feeling pretty satisfied with my forest bathing experience already, I started to head back in the direction of Xianglin Arch Bridge, and returned to the boardwalk leading back to the 1st traffic control checkpoint.
I think it was around 3pm when I got back to the visitor centre area. I intended to browse the stores in the vicinity but unfortunately most of them were closed on the weekday I went. Oh wells, but good thing is I still managed to enjoy a cup of hot chocolate from a 7-Eleven post-trek! ☕
All was in good timing as I boarded a bus back before 4pm and by the time I reached Chiayi train station, it was roughly 6pm, just nice for dinner! 😄
Guide Summary 💡
Board bus #7322 from the bus stop right in front of Chiayi train station. The earliest bus is at 6.05am.
Alight at Alishan Transport station. The bus ride is 2.5hr – 3hrs long.
Walk towards the entrance ticket office "bridge" to purchase your tickets, which cost NT150 per pax if you came via public transportation. (Standard tickets cost NT$300.)
Go to the visitor centre to grab a copy of map guide. You may also ask the staff for a recommended route, which could vary depending on the weather.
To embark on the forest trail, walk towards the post office, "Alishan" display, and finally past the first traffic control.
Follow the signs to get to desired landmarks!
Take note of the returning bus timings. The last bus from Alishan back to Chiayi train station is scheduled at 5.10pm.
Author's Thoughts
If you google how to get to Alishan, you would learn that there are multiple ways to do so. The most direct and convenient would be (1) driving, either by renting a car or hiring a private driver. Followed by (2) booking day tours. Next on the list would be (3) public transport: bus or train (Alishan Forest Railway 🚂). And between taking bus or train, many travel blogs would recommend the latter due to how scenic the ride was, along with the history of the railway system.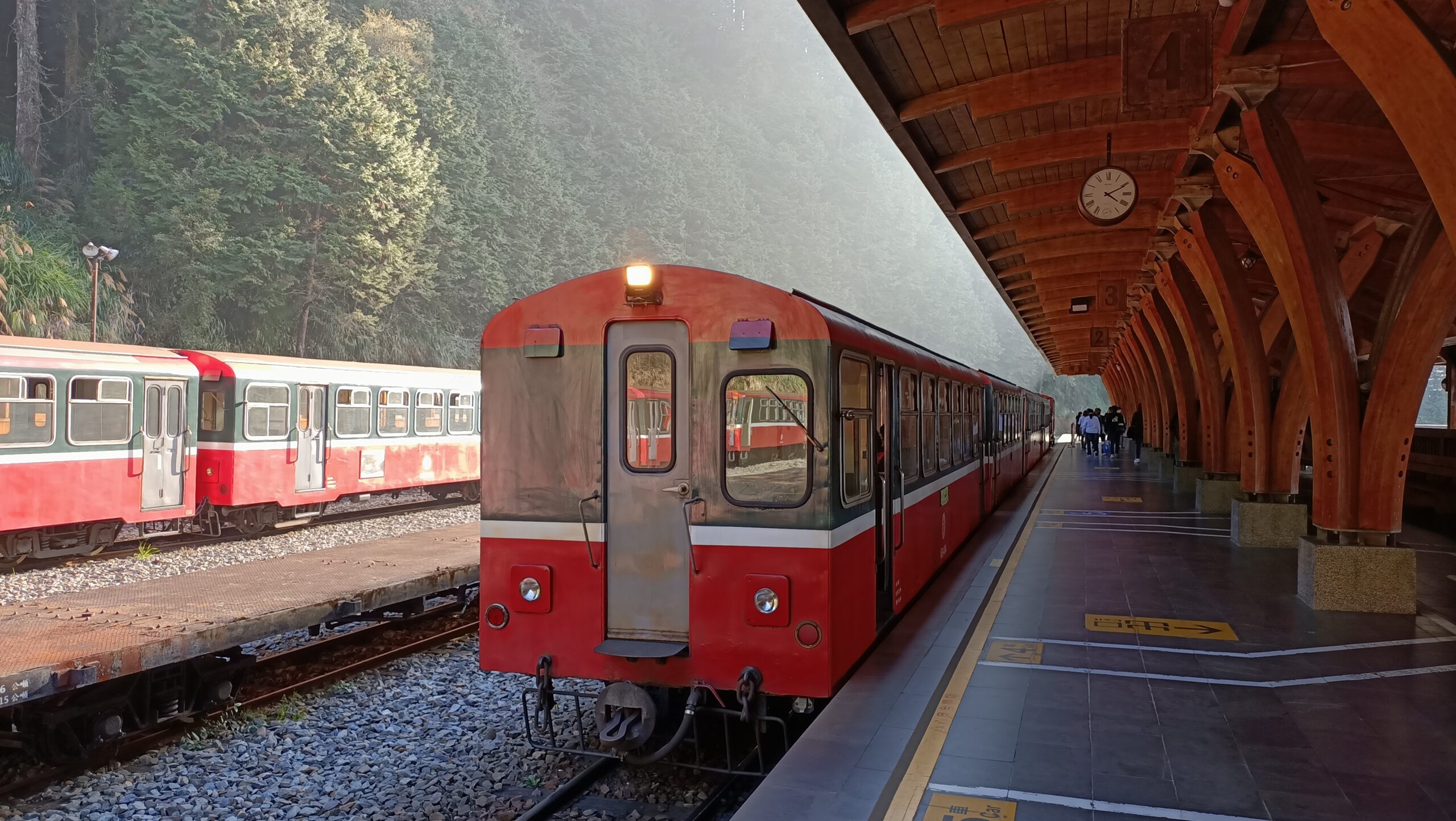 The very first option was too expensive for me as a solo traveller and therefore immediately eliminated. Back in February, I had the impression that it would be quite hard to get to Alishan on my own, while still having time to comfortably explore the area, hence I chose to book a day tour. And within the day tour package, it included a train ride from Sacred Tree to Alishan station.
So the second time round, when it came to choosing which mode to get to Alishan, I chose the bus option as it was cheaper and faster. It may have been a pity not to sit on the "legendary" Alishan railway train all the way up, but hey, I'm already satisfied that I got to sit on it once before. That said, if you would like to take the train up to Alishan, please note that you have to plan meticulously as there are only a few train timings per day and advanced booking (maybe even up to months) is required.
While planning for my day trip, I was also contemplating whether to catch the sunrise 🌄 in Alishan, widely quoted as one of the 5 wonders of Alishan. To do so, one would have to stay overnight at Alishan, then take the train to Zhushan station at dawn. However, I found the accommodation prices at Alishan way too high for me. I thought of taking overnight buses, but as one can see from the bus schedule images, the earliest bus starts at ~6am. Alas, I had to "pick my poison" and decided give it a miss. Which honestly, looking back, isn't that big of a deal because I've witnessed really beautiful sunrises in other places too!
Ending Note
This article is a mixture of factual guidance, and anecdotal sharing. I couldn't decide between the two and figured that I didn't only want to keep one. So hope you enjoyed reading my DIY "guide" to Alishan!
Here are a few really well-written blogs I came across when I was doing my own research too:
p.s. Heading to Taiwan soon? Check out my article on tips for travelling to Taiwan!
Thank you for reading! Happy travels!