Introduction
In my previous post, I shared about the general steps to set up a website. In this post, I would go through how much it costs to own my domain name and host my personal blog.
To start, I purchased both my domain name and my WordPress hosting plan from Hostinger because I found it to be the cheapest option, given my needs.
WordPress Hosting Plan Costs
Below is an overview of the available WordPress hosting plans offered by Hostinger: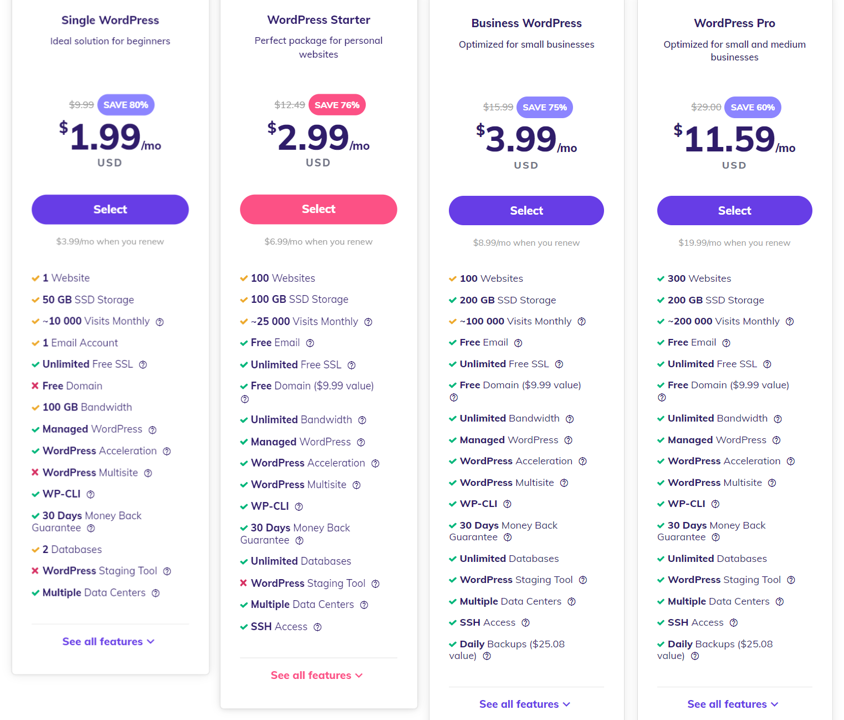 I chose the "Single WordPress" plan because I only intend to set up 1 personal blog powered by WordPress. Hence, the limit of hosting only 1 website and 50GB SSD storage was sufficient for me. In any case, in the future when my website gains more traffic and crosses the threshold of 10,000 visits monthly, I can still upgrade my plan to increase its traffic capacity.
Besides that, the unlimited free SSL for the entire hosting plan period was a huge draw for me because I needed my site to be secure ("http" to "https"). Note that other service providers may also provide free SSL, but only in your plan's first year.
Upon clicking "Select", I had to choose my initial term plan. For Hostinger, the longer your initial term period, the higher your cost savings. The lowest cost per month: $1.99 USD is only applicable if you choose the 48 months (4 years) period.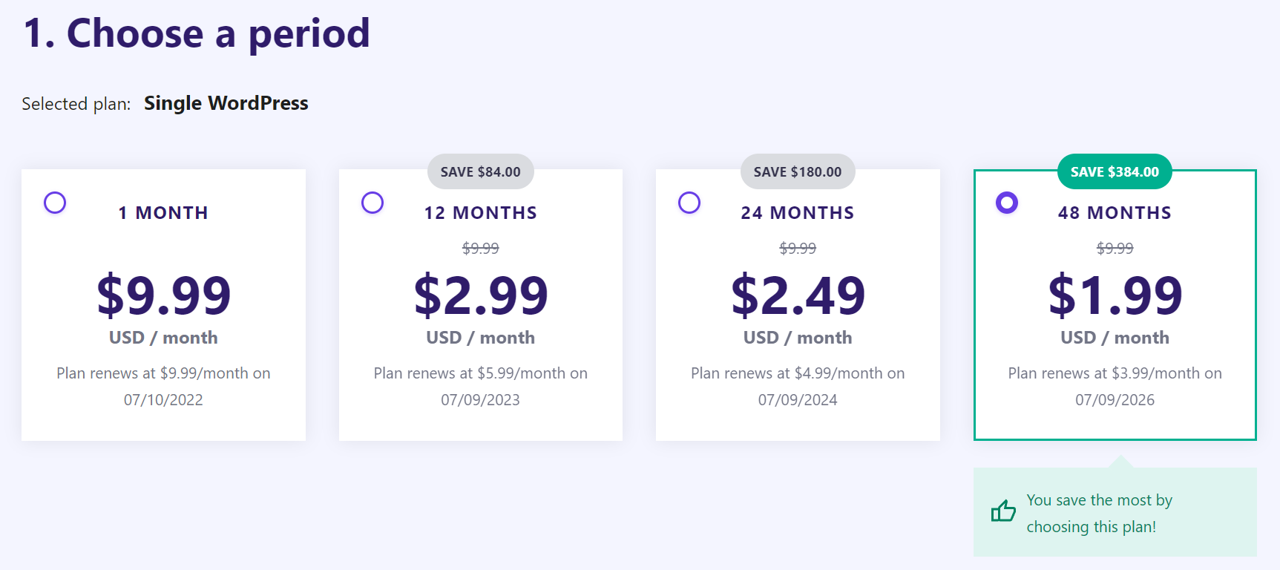 As a student, I was eligible for Hostinger's student discount! To get your own student discount code, you can apply via https://www.hostinger.com/student-discount. Afterwards, simply input your student discount code in the coupon code field.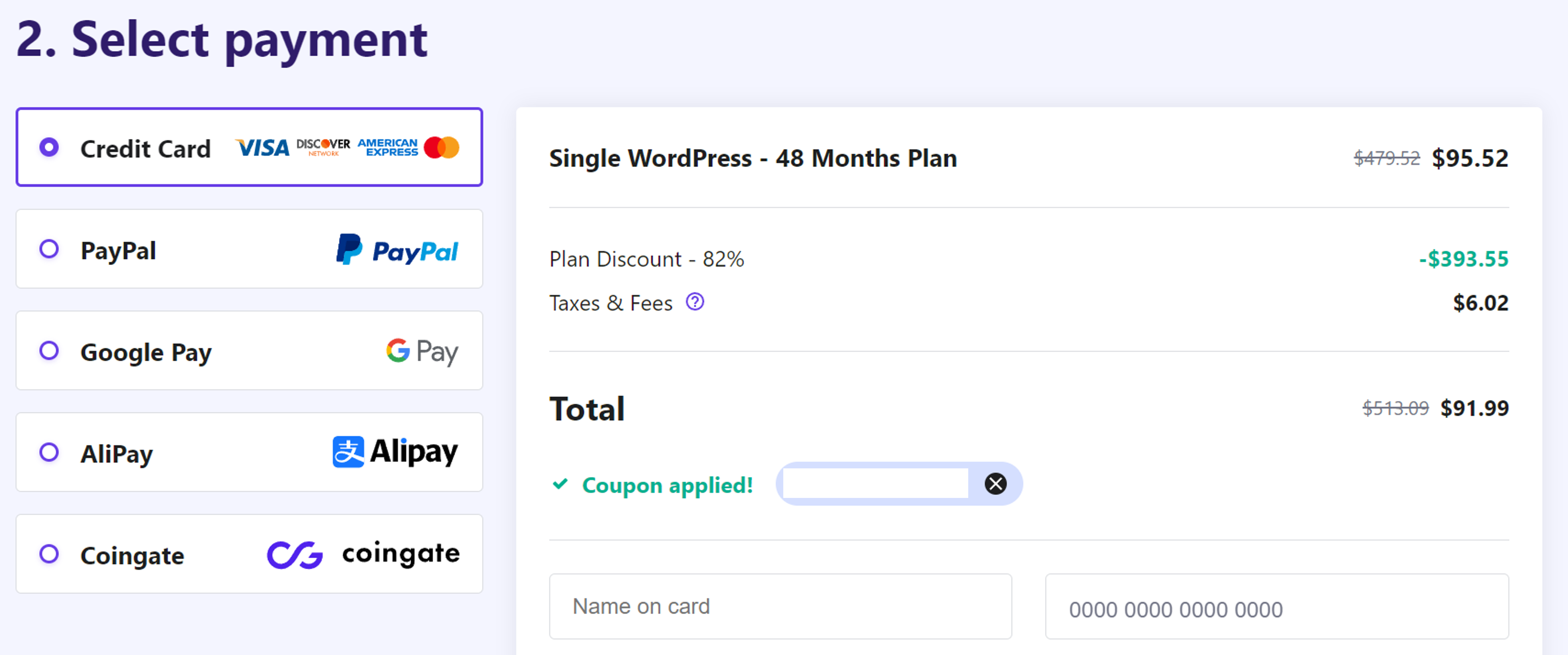 So, I paid a total of 91.99 USD for my "Single WordPress" 48 Months plan. This means that from September 2026, I would go back to paying the standard rate of 3.99 USD per month.
Domain Name Costs
As the "Single WordPress" plan does not include a free domain name, I had to purchase one separately. Hostinger offers a discounted price of 9.99 USD for your first year of domain registration. From the second year onwards, you have to pay 13.99 USD annually.
Note that all other plans offer a free domain name only for the first year of your plan. From the second year, you would have to pay the standard rate to renew your domain name registration.
At the start, you can choose to register your domain for 1 to 3 years. I chose the 2 year period.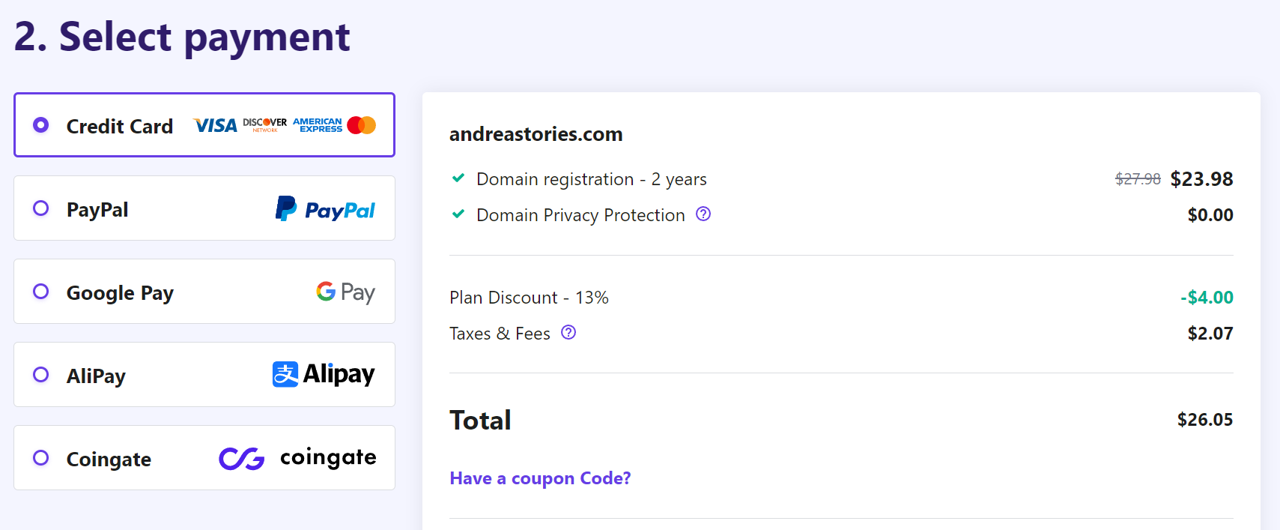 So, I paid a total of $26.05 USD for my 2 year domain registration. This means that I would have to resume paying $13.99 USD yearly from Sept 2024, so that I can continue to own the domain: andreastories.com.
One key point to note is that Hostinger includes free domain privacy protection! Essentially, this feature prevents your personal details (tagged to your domain) from being exposed to the Internet. This may not be offered for free by other domain name sellers, such as Namecheap, and you have to top up in cost for it.
Summary Of Annual Cost Tables
Excluding Taxes & Fees (7% VAT)
1st Year: Sept 2022-2023

2nd-4th Year: Sept 2023-2026

5th Year Onwards: From Sept 2026

Ending Note
I hope that my sharing was informational and helpful for you. Please do your own research and choose a service plan that best serves your needs, which can change over time too.
If you would like to buy any of Hostinger's plan, you can enjoy a 20% discount via my referral link for first-time purchases! More information on Hostinger's referral program can be found here.
Thank you for reading!