Starting your own website may seem like a challenging task and require a lot of programming knowledge. But as it turns out, setting up a website or blog requires only the following 3 main steps!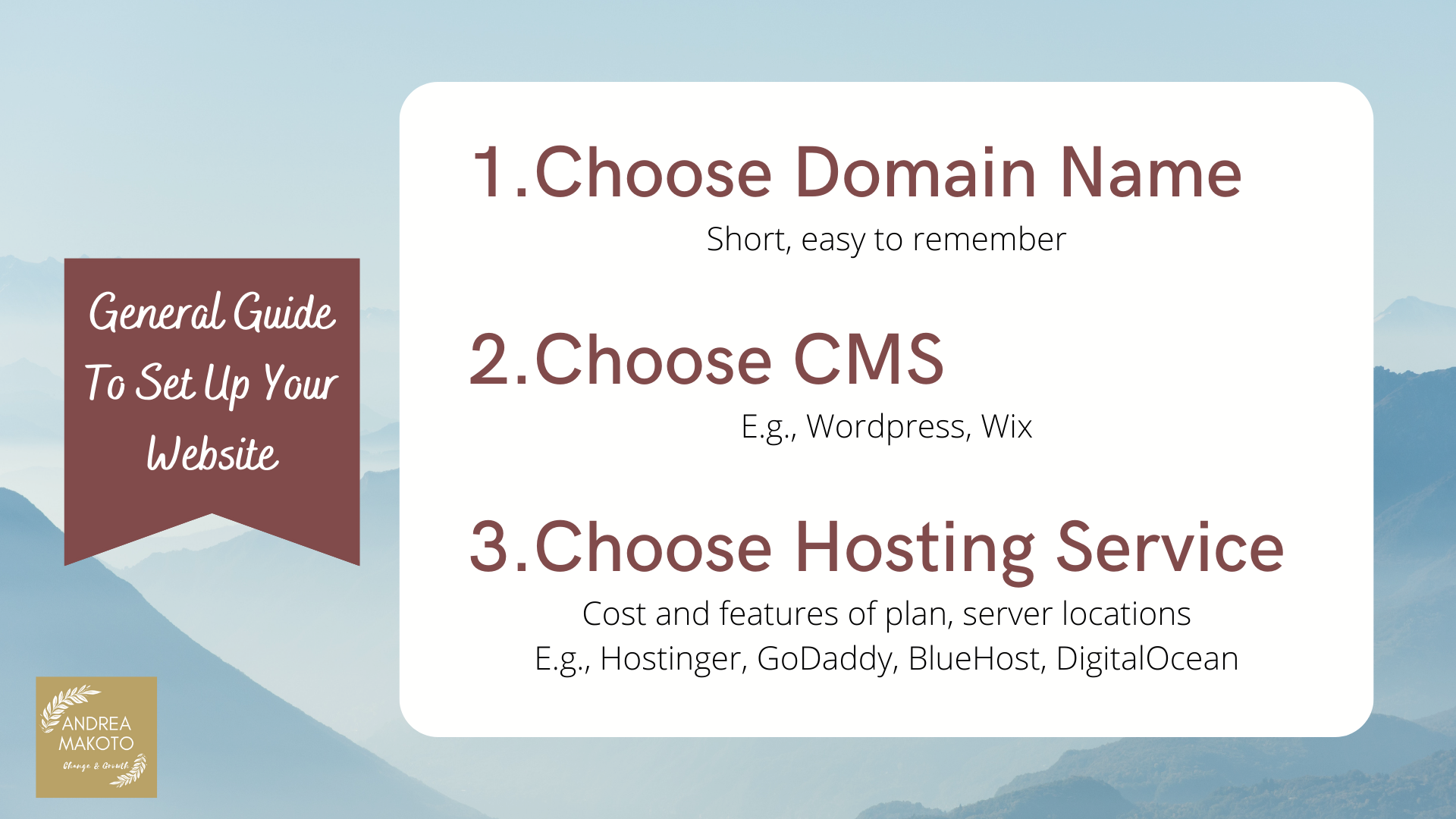 3 Main Steps
Choose a domain name
Choose a content management system
Choose a web hosting service
Going Deeper Into Each Step
How to decide on a domain name?
My 2 main concerns for my domain name are:
Length
Easy to remember
"andreastories" has 13 characters, which is slightly more than my aim of 8-10 characters. But, I still chose it because I believe that when I say the domain name, people are able to type it in their address bar without any typo. Also, I only wanted a ".com" domain as it is the most common, globally recognisable and usually the "default" domain people use.
If you are building a website for your company, the domain name can simply be your company's name.
Take note that with more websites created every day, your desired domain name may already be used and you would have to use an alternative one instead. To check, simply do a search on https://www.namecheap.com/ and the search results would inform you if a particular domain is taken already.
How to decide on a content management system?
The top 2 content management systems, that I am aware of, are WordPress and Wix.
WordPress powers more than 40% of all websites and has a vibrant plug-in ecosystem! The plug-ins make it easy to extend its functionalities. Therefore, I chose to power this blog using WordPress.
For those with a technology background (also known as techies), it is very tempting to want to build your own website from scratch. With knowledge of HTML, CSS and Javascript, I do agree that doing so gives you greater control of the site and you can truly customise it to your ultimate liking. However, I still decided to use WordPress because I didn't want to reinvent the wheel and instead wanted to leverage existing well-developed solutions!
How to decide on a web hosting service?
The list of web hosting services available is endless, so I spent a lot of time doing research.
Before looking through the numerous plans available, it is important to be clear on the purpose of your website. For me, this website simply serves as a personal blog. You may be setting up a company portfolio page, or using your website as a marketing channel for an enterprise.
My top 3 factors for choosing a hosting service provider are:
Cost: Seek good value for lowest cost
Location of servers: The nearer the servers are to your targeted audience, the faster the website loads
Integration with WordPress: 1-click WordPress installation
To date, this blog is hosted by Hostinger. Other service providers (for WordPress websites), that I know of, are GoDaddy, DigitalOcean, DreamHost, Bluehost and SiteGround. Please do your own research and compare between plans to find one that suits you the best.
Ending Note
Decide on a domain name —> Choose a content management system —> Choose a web hosting service. These are the 3 simple steps to get your website up and running!
All the best and thank you for reading!