A fellow blogger told me that she was not comfortable sharing how she earns from her blog & YouTube, which baffled me. In honor of my confusion, I decided to write this article and share 4 ways I know that you can earn from a blog.
4 Ways To Earn From A Blog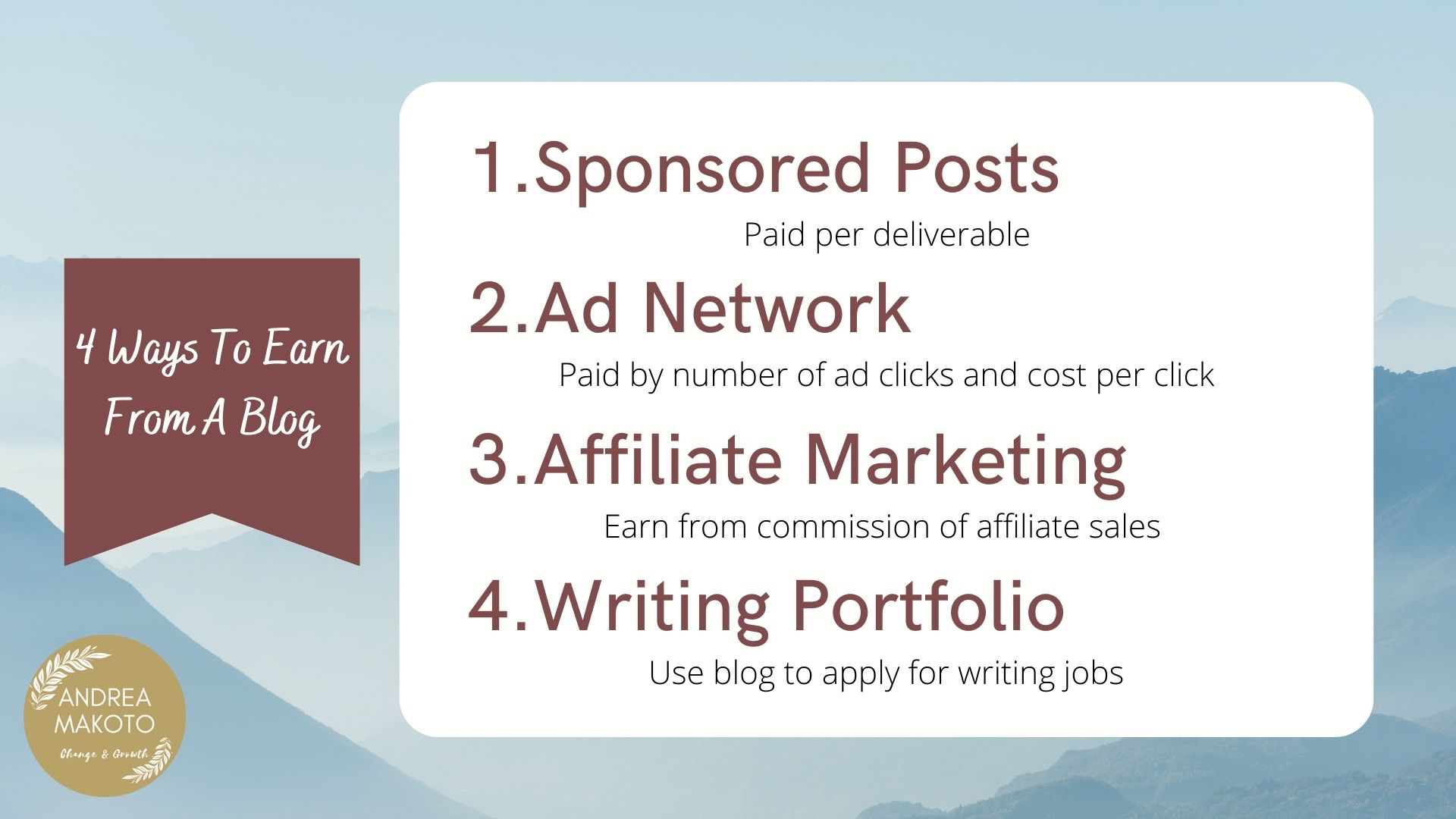 Sponsored Posts
Ad Network
Affiliate Marketing
Writing Portfolio
The list is ranked from the most to the least direct way of earning.
Delving Deeper Into Each Method Of Earning
1. Sponsored Posts
First and foremost, at the top of the list, would be sponsored posts.
How It Works
You would be commissioned by a company to write an article about their product or service, or the company in general. Before you commence work, the payment terms between you and the company would be agreed upon.
Author's Thoughts
This is the most direct way as your client company would pay you per deliverable and you would know how much you will earn before you write the article.
However, the challenging part would be sourcing for companies (or being sourced by companies) who would be keen to enter a business partnership with you, especially in the long run. A key factor to consider would be whether your blog's audience profile aligns with the company's business target users.
2. Ad Network
The second way to earn from a blog is to join an ad network and earn ad revenue.
What Is An Ad Network?
An ad network acts as a "middlemen" between a group of advertisers and publishers. Advertisers refer to entities who want to market their products via ads. Publishers refer to entities that provide a platform or space to showcase those ads. The ad network would then manage the distribution of ads from advertisers to suitable and appropriate publishers.
How It Works
If you join an ad network, your blog will be one of the publishers. You can dedicate space on your blog, for instance, the sidebar, for ads to be displayed. You usually earn money when viewers of your blog click on the ad(s). The amount you earn would depend on the number of clicks and cost per click.
Examples: Google AdSense, Facebook Audience Network
Author's Thoughts
This earning method is less direct than sponsored posts because it is uncertain how many visitors you would have on your website every month, and only a proportion of them would click on the ads displayed.
3. Affiliate Marketing
The third way to earn from a blog is affiliate marketing.
What Is Affiliate Marketing?
Affiliate marketing is the process by which an affiliate earns a commission for marketing another person's or company's products.
How It Works
To execute affiliate marketing, you have to obtain the affiliate links for the products you want to promote and then share them via your blog page. In practise, this can be done by writing a product review and then attaching the link at the end of the article. It helps to leverage social media to direct more traffic to your articles too!
When people use your affiliate link to make a purchase, you would earn a commission, which can be a percentage of the order item's price, or a set amount determined by the brand.
Examples: Shopify, Amazon Associates
Author's Thoughts
This method of earning from a blog is less direct than sponsored posts because it is uncertain how many people would stumble upon your article and have true conversion by using your affiliate link. Note that even if users click on your link, a sale must still be made for you, as an affiliate marketer, to earn a commission.
4. Writing Portfolio
The last way, and the most indirect one, is using your blog as a portfolio showcase.
How It Works
When applying for writing jobs, you can use your blog to express your writing voice and personality. Choose a few pieces to submit in your application. Be tactful! The articles' topic(s) should preferably be in line with the company's niche.
Author's Thoughts
Especially when you are applying for your first writing job, the lack of relevant working experience can feel daunting and hold you back. But remember that showcasing your blog can help to convey your passion for writing, and why you're suited for the role 😃
In short, your blog can help you land your next writing job!
I consider this the most indirect way of earning from a blog because you still have to get your hands dirty when sourcing for writing jobs and that process can take some time as well.
Ending Note
4 Ways To Earn From A Blog:
Sponsored Posts (most direct)
Ad Network
Affiliate Marketing
Writing Portfolio (least direct)
In my opinion, the first way relies a lot on relationship building with client companies. I would prefer working with companies that I align with so that I don't lose myself while writing sponsored posts.
Besides that, one's "success" level for the second and third ways depends on how much visitor traffic their site experiences and how many true conversions (ad clicks, affiliate sales) are there. You would have to make sure that you are attracting a significant number of the "right" people.
I hope my sharing was insightful to you.
Thank you for reading!